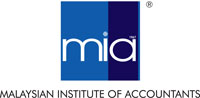 About the Malaysian Institute of Accountants
Established under the Accountants Act 1967, MIA is the national accountancy body that regulates, develops, supports and enhances the integrity, status and interests of the profession in Malaysia. MIA accords the Chartered Accountant Malaysia or C.A. (M) designation to a professional in accountancy, business and finance with a recognised qualification and relevant work experience.
Working closely alongside businesses, MIA connects its membership to an unmatched range of information resources, events, professional development and networking opportunities. Presently, there are more than 35,500 members making their strides in businesses across all industries in Malaysia and around the world.
MIA's international outlook and connections are reflected in its membership of regional and international professional organisations such as the ASEAN Federation of Accountants (AFA), and the International Federation of Accountants (IFAC).
Purpose
To regulate and develop the accountancy profession to support economic growth and nation building
Vision
To be a globally recognised Professional Accountancy Organisation (PAO) in regulating and developing the profession for nation building
Values
Integrity, Mutual Trust & Respect, Professionalism, Accountability, Commitment, Teamwork, Sustainability (IMPACTS)
Strategic Objectives
Develop and enhance the competency of accountancy professionals to stay relevant to business and market demand
Nurture professional values and ethics of members to uphold a strong accountancy profession
Regulate and develop the practice of the accountancy profession consistent with global standards and best practices
Promote the value proposition of accountancy profession and continuously uplift global recognition
MIA's Functions
Section 6 of the Accountants Act 1967 (the Act) states that the functions of the Institute shall be:
To determine the qualifications of persons for admission as members;
To provide for the training and education by the Institute or any other body, of persons practising or intending to practice the profession of accountancy;
To approve the MIA Qualifying Examination (QE) and to regulate and supervise the conduct of that Examination;
To regulate the practice of the profession of accountancy in Malaysia;
To promote, in any manner it thinks fit, the interest of the profession of accountancy in Malaysia;
To render pecuniary or other assistance to members or their dependents as it thinks fit with a view to protecting or promoting the welfare of members; and
Generally, to do such acts as it thinks fit for the purpose of achieving any of the aforesaid objectives