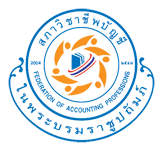 The Accounting Profession Act B.E 2547 (2004) was put in force in October 23, 2004 instituting the Federation of Accounting Profession (FAP). FAP has been under the Royal Patronage of His Majesty the King since September 6, 2005. FAPs Authorities and Duties are as follows:
Promoting education training and research with respect to accounting professions;
Promoting the unity and the integrity of its members and to arrange welfare and assitance among the members.
Setting accounting standards, auditing standards and other standards relating to accounting professions;
Prescribing Code of Accounting Profession Ethics;
Registering accounting degrees or certificates of educational intitutions as credentials in applying for FAP membership;
Certifying knowledge and expertise in accounting professions;
Certifying professional training courses and continuing professional education in all areas of accounting professions;
Regulating the conduct and practices of members and registrants so that they comply with the Code of Acconting Profession Ethics.