Joint Public Sector Webinar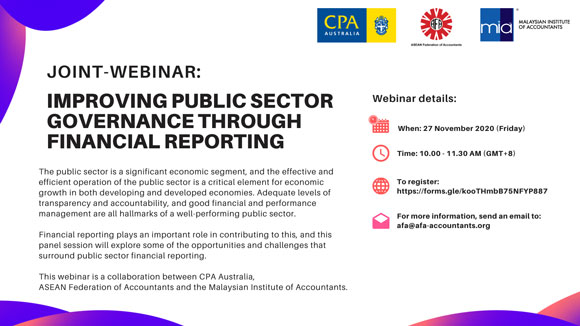 ASEAN PAOs continue pushing for more discussion on public sector accounting

AFA together with CPA Australia and the Malaysian Institute of Accountants (MIA) successfully hosted a joint webinar on Improving Public Sector Governance through Financial Reporting. Around 465 participants from countries around the ASEAN region tuned into the 90-morning session, delivered by experts from Vietnam, Malaysia, and Australia. Panellists shared the current stage of public sector reporting in their respective jurisdictions, and the challenges that they are facing in enhancing the accountability of the Governments financial reporting.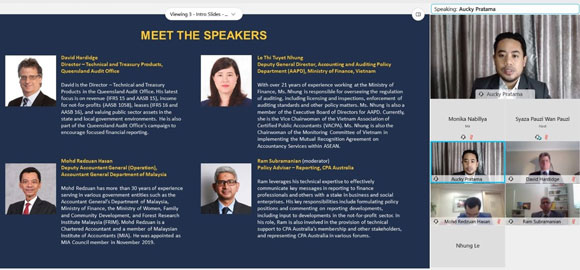 AFA would like to thank CPA Australia and MIA for their excellent cooperation in hosting this webinar. Our appreciation to the moderator and all speakers participated in this webinar: Ram Subramanian, Le Thi Tuyet Nhung, Mohd Redzuan Hasan, and David Hardidge, for their sharing and exchange.

Please click on the following link to download the Release:
#afaaccountants #aseanaccountants
Category: ASEAN Accountants | Post on 30 November 2020