MIA - IFAC SMP Regional Forum 2015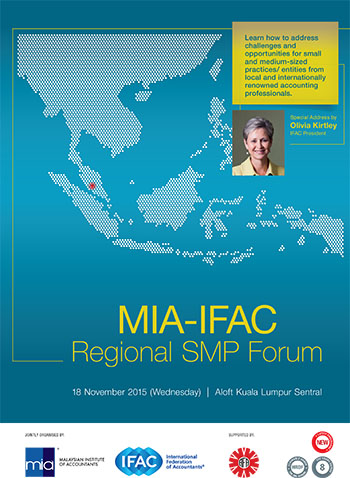 On 18 November 2015, the Malaysian Institute of Accountants (MIA) together with the International Federation of Accountants (IFAC) will hold the MIA - IFAC SMP Regional Forum 2015 in Aloft Kuala Lumpur Sentral, Malaysia. This one-day forum is supported by the AFA as the umbrella organisation for the national association of the Association of South East Asian Nation (ASEAN).
The regional forum will bring together regional and national accounting organisations, standard-setters, and other interested parties to discuss how to address the challenges and unique opportunities facing small and medium-sized practices (SMPs) and small and medium-sized entities (SMEs). Through the regional forum wish the participant to be able to learn the transformation in the SMP Landscape and overcome today's challenges and seize the future opportunities.
The MIA – IFAC SMP Regional Forum will be formally opened by the MIA President, Dato' Mohammad Faiz Mohammad Azmi and followed by special address from the IFAC President, Ms. Olivia Kirtley. To support this event, the MIA also invited prominent speakers among others are the Chairperson of IFAC SMP Committee, Giancarlo Attolini, the Deputy of IFAC SMP Committee, Monica Foerster, the Chairperson of MIA SMP Committee, Datuk Zaiton Mohd Hassan. The AFA delegation will be headed by the AFA Deputy President, Sonexay Silaphet together with the AFA Executive Director, Aucky Pratama.
For more information about the Forum please download the MIA - IFAC SMP Regional Forum Flyer in the following link: ...