The LCPAA - AFA SME Seminar: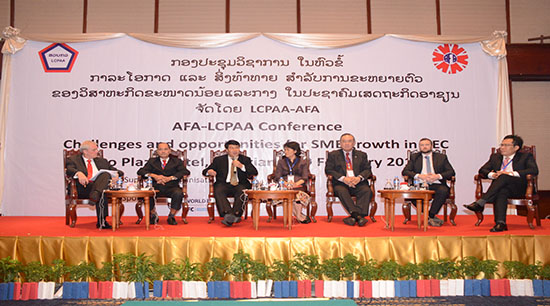 Lao Chamber of Professional Accountants and Auditors (LCPAA) supported by AFA organised a seminar focusing on SME on 19 February 2016 at the Lao Plaza Hotel, Vientiane, Lao PDR. The seminar was part of the continuation of the Federation´s effort in focusing on SMEs (and SMPs) issues in the region. The seminar provided particularly the Laotian SMEs with a better understanding about the challenges and opportunities that come with the ASEAN Economic Community. More than 250 participants actively participated at the one day event.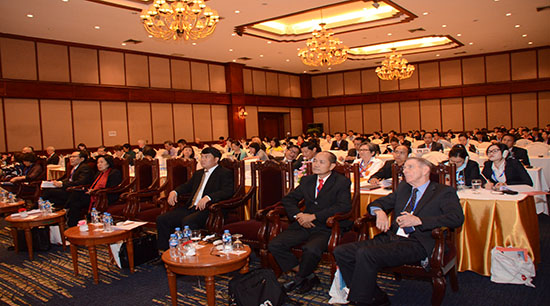 To support the theme of the seminar, a number of proficient speakers and panelists shared their views on the matter. Mr. Gerard Ee, the Deputy President of AFA; Ms. Leong Soo Yee, Director of ACCA Asia Pacific; Mr. James Dickson, Deputy Director of CPA Australia; Mr. Kingxay Chounlamountry, Director of SME Fund Division, DSMEP; Hongkham Phomvilath, Deputy Director of Legislation Division, Tax Department, MoF; Ms. Phirany Phissamay, the Pesident of LCPAA were some of the contributors.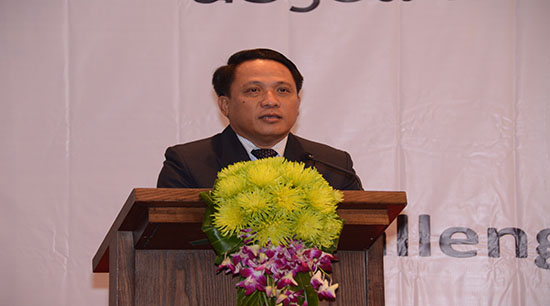 The seminar was officially opened with a keynote speech from the Vice Minister of Finance of Lao PDR, Mr. Bounchomh Ubonpaseuth. On behalf of the Minister of Finance of Lao PDR, he reiterated the support from Lao government on SMEs development among others by setting up priority works for creating enabling environment for the Laotians SMEs, including improvement of accessibility to financial sources as well as increase support and enterprise development services. These are prepared to create opportunities for improving their capacities in the region to enable them to be more competitive, innovative and to be able to utilise the regional economic initiatives and incentives for their sustainable growth.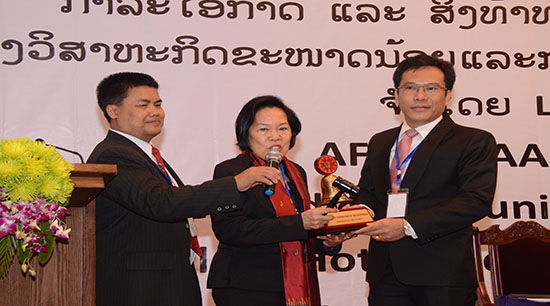 Mr. Ubonpaseuth and the participants also witnessed the induction process of newly appointed AFA President, Mr. Sonexay Silaphet, AFA Deputy President, Mr. Gerard Ee and Mr. Nanthalath Thirakul, AFA Honorary Secretary. The inauguration process marked with the symbolic handover from Ms. Estelita C. Aguirre, AFA President for the period of 2014-2015 to Mr. Sonexay Silaphet for the period of 2016-2017. The Vice Minister of Finance of Lao PDR congratulated and delivered his support to the newly appointed AFA office bearers and wished them the very best in contributing to the development of the accounting and auditing profession in the ASEAN region.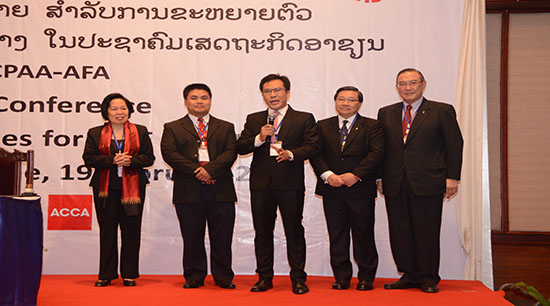 Category: AFA Conference | Post on 03 Maret 2016