AFA Research Grant 2019 - Call for Proposals
The ASEAN Federation of Accountants (AFA) proudly launches the AFA Research Grant 2019. The grant is the second introduced by AFA, after the first initiative in December 2016. It is a realisation of the Federations aspiration to be a regional though leader on SMEs and SMPs issues relevant to the accountancy profession, and a platform for contribution to the collective regional research capacity in the ASEAN region.

Applicants are invited to submit their proposal, prepared according to the desired format, at the latest by 15 July 2019 (5pm Jakarta/GMT+7). The grant recipient will be announced on 16 August 2019. The research is to be conducted within a 9-month research period.

A grant of up to $27,500 SGD, inclusive of all expenses related to the research activities and production of the research outputs and where relevant, tax according to the jurisdiction where the applicants are based is available for one recipient/a group of recipients.
The AFA Research Grant 2019 is fully supported by the Association of Chartered Certified Accountants (ACCA), the Chartered Accountants Australia & New Zealand (CA ANZ) and the Japanese Institute of Certified Public Accountants (JICPA).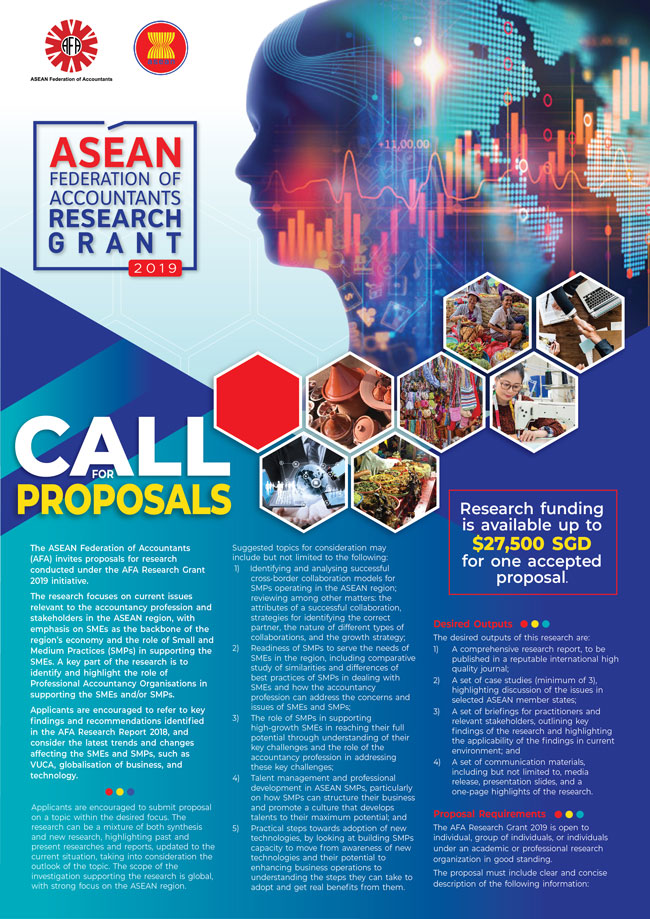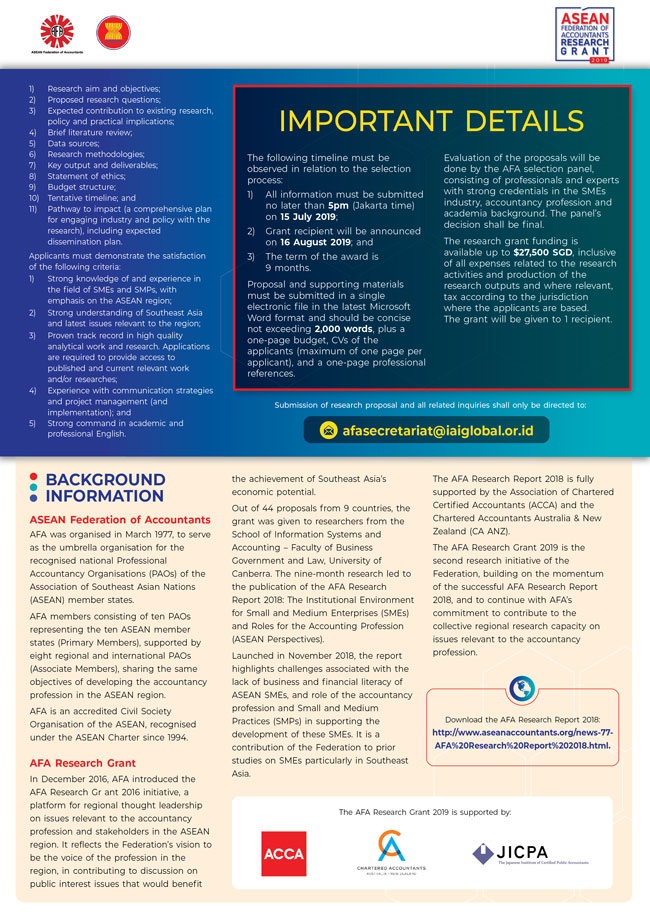 Submission of research proposal and all related inquiries shall only be directed to afasecretariat@iaiglobal.or.id.
Download the AFA Research Grant 2019 - Call for Proposals

Follow updates about the AFA Research Grant 2019 in our social media platforms:

Twitter: @AFA_Accountants

Facebook: ASEAN Federation of Accountants

LinkedIn: ASEAN Federation of Accountants

Hastags: #AFAresearchgrant2019, #aseanaccountants