Asia-Pacific Small Business Webinar (June 15, 2022)
AFA and CPA Australia discuss ASEAN high-growth small businesses

AFA together with CPA Australia organised a webinar (under the AFA ASEAN SMP Webinar Series) to discuss key findings from CPA Australias 13th annual Asia-Pacific Small Business Survey 2021-2022. According to the survey, COVID-19 and the measures taken to control it had a major negative impact on most small businesses in the region. Using online sales is the top action small businesses undertook in response to COVID-19. Whilst businesses with older respondents and less employees were much more likely to take no action in response to COVID-19 in 2021.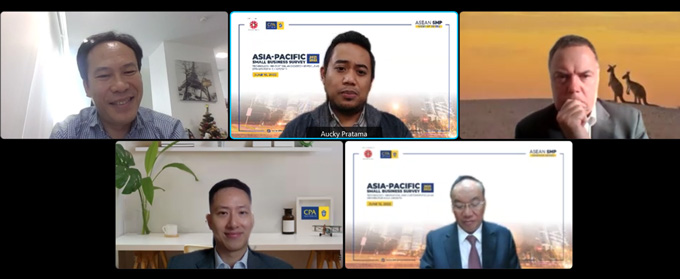 Sharing their insights into the state of small businesses in ASEAN jurisdictions were Jonathan Ng (Policy Advisor, Hong Kong, CPA Australia), Dr. Michael Schaper (Visiting Senior Fellow, ISEAS – Yusof Ishak Institute), and Sonexay Silaphet (President, Lao Chamber of Professional Accountants and Auditors).
AFA recognises CPA Australias role in building the capacity of the ASEAN accountancy profession and appreciates both organisations ongoing collaboration.


Read our full Release: Release

Re-live the discussion and watch a recording of this webinar in our YouTube page.

Download the presentation slides: slides