AFA Appoints IMA as an AFA Associate Member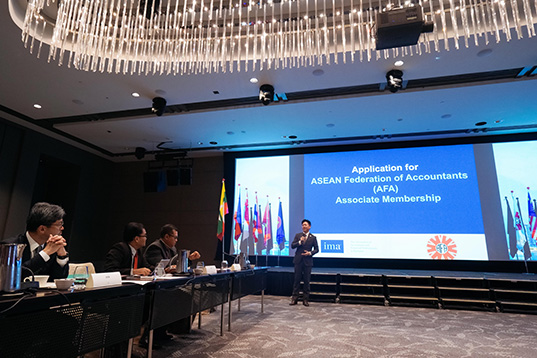 The AFA Council appoints the Institute of Management Accountants (IMA) as an AFA Associate Member at the 129th AFA Council meeting in Singapore on 25 November 2019. IMA will be the Federations ninth Associate Member, the first originated from the United States of America. AFA looks forward to working together with IMA and the AFA member organisations in further developing the ASEAN accountancy profession.
IMA, named the 2017 and 2018 Professional Body of the Year by The Accountant/International Accounting Bulletin, is one of the largest and most respected associations focused exclusively on advancing the management accounting profession. Globally, IMA supports the profession through research, the U.S. CMA (Certified Management Accountant) and CSCA (Certified in Strategy and Competitive Analysis) programs, continuing education, networking, and advocacy of the highest ethical business practices. IMA has a global network of more than 125,000 members in 150 countries and 300 professional and student chapters. Headquartered in Montvale, N.J., USA, IMA provides localized services through its four global regions: The Americas, Asia/Pacific, Europe, and Middle East/India.
Download the release here: Release.
Category: ASEAN Accountants | Post on 02 Desember 2019